This week really threw me for a loop when the weather went from 65 degrees and sunny, to negative temperatures and about 9 inches of snow. Typical Bend. The great thing about running is, no matter the conditions, we're able to adapt for the most part. And then of course, there is always the treadmill. I am one of those who will run outside as much as I can, but play it smart when I know my health is at risk or I might get injured. Needless to say, the conditions this week called for the treadmill – my first time back on it since February.  With all the snow we now have, I am tempted to get out and build a snowman.  Or this…
Pretty much how I feel about swimming.  Perhaps if I were to imagine that the people behind me during a race were sharks, I could swim faster?  No?  No.  Probably not. 
Monday was a rest day, as always, and Tuesday included 5 easy miles Garmin free. I was still feeling the residual effects of my horrible long run on Sunday and just wanted to get out with no pressure.
Although the treadmill might have been a wiser option, there still wasn't any snow on the ground on Wednesday so I headed to the track in 15°F temperatures for a 9-mile track workout. The air was dry and straight up COLD. After my warm-up I proceeded to do my 1000m speed workouts, but realized after only two that I couldn't handle the burning sensation on my lungs and would need to do shorter segments. I could handle anything up to 600m, so I switched it up each time and did the best I could.
On Wednesday night it began to snow. And snow. And snow. I awoke on Thursday to 6 inches of snow and it was still coming down hard. Because the sidewalks and roads were covered, and the trails had yet to be packed down by foot traffic, I knew it was time to reunite with the treadmill. And of course, on a day when I had 13 miles on my schedule.  It was either the treadmill or this…
The first time back on a treadmill after a long hiatus is always questionable. Will I know what to do? Will my legs adjust? Will I fall? Will I look funny?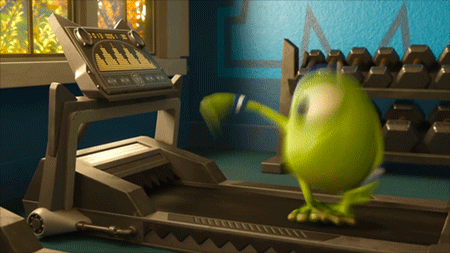 Rest assured, I managed quite well and the 13 miles were spent listening to some fun music and observing people come and go.
Thursday night brought freezing rain, which created a two-inch sheet of ice on top of the six inches of snow, followed by a couple more inches of snow Friday morning. Apparently, Mother Nature likes layering. My 4Runner's windows, doors and handles were completely frozen, so I was stuck at home. I didn't mind. Once Justin was off work we decided to get out and play in the snow. We were somewhat limited because Justin is still recovering from his surgery, but were able to venture out for a bit before cozying up with some homemade turkey fajita soup and a few episodes of the Blacklist (our new Netflix obsession, by the way).
Once again on Saturday I took to the treadmill and had 5 easy miles on my schedule. I had mega cramps that made me want to curl up into the fetal position. The first day of "shark week" is always the worst for me, so I'm just glad I made it through the miserable run without getting all emotional on the treadmill.
Saturday night I had a few decisions to make about the 20 mile run that was scheduled for Sunday morning. It was supposed to be 0°F and I knew I did not want to run that distance on a treadmill. It was either get it done, or have it linger into Monday or Tuesday (which wasn't ideal).
When it comes to running during the colder winter months, all of us have different thresholds for what we can tolerate. I am still learning about what I can handle and what my limits are, so if I were to accept the challenge of running 20 miles in these conditions, it would be a learning experience.
When I woke up yesterday and saw that it was -1F, I decided to take a chance and brave the conditions. I was already mentally prepared and ready to go, so I went with it. Justin and I agreed that if I found that it was too cold or that I was struggling running on the snow and ice, I would call him and have him pick me up. Right as I was leaving the house, I think we both had it in the back of our minds that I would be whipping my phone out within a few miles.
But, I didn't. I was surprisingly comfortable, enthused, and my studded shoes (Justin had screwed a dozen 3/8" sheet metal screws into each sole the night before) held up really well. Many of the sidewalks and pathways had not been plowed following the storm so I ran on the roads for a majority of the run, but it was so early that there was hardly any traffic. At about 11 miles I met up with one of the local running groups at Recharge to have a little company for a few miles. Renee and Austin had mapped out a good 4-mile loop, so I joined them for a loop and a half before breaking off to head back home. It was a great way to break up the monotony of running alone. My pace remained consistent during the entire run and I felt great – what a complete 180 from last week's debacle.
There were some great things about running in the cold I learned from this epic 20-mile freezer.
Yaktrax vs. Screws. I have now used both of these and while I do like Yaktrax, running for the first time on screws (and 20 miles at that) was definitely more comfortable and less noticeable. From now on, I will likely use sheet metal screws because:
I tend to notice the Yaktrax more. They are bulkier and squeeze around the shoe. With the screws I felt as though I was running in my same weight, normal shoes.

They work well on snow, ice, and bare pavement. There were a couple of places along my run where I hit dry pavement and was worried that the screws would become noticeable. Nope.

Because of the grip and traction, I felt more confident and comfortable while running. My pace was surprisingly faster than I was expecting. My goal was to average a 9min/mile pace and I averaged 8:29min/mile.

They are a cost effective way to gain top notch traction (24 sheet metal screws cost about $2.40 versus $30 for a pair of Yaktrax), they do not damage the shoes, and you can reuse them as often as you'd like.
Don't mess around with winter. Some of the gear may be a little more pricey, but if you are going to be out running in the snow and lower temperatures, investing in a higher quality jacket or tights can make all the difference. I layered like a crazy person for this run, but it was worth it. The only thing I removed were my gloves at mile 17, because the sun was out and for some reason my hands were really sweaty and toasty. Here is what I wore and what worked well for me:
CEP compression calf socks under my thick, thermal tights. This was the first time I ran in compression socks and it was amazing. Hiding those suckers under the tights kept my calves warm and compressed, which felt great.

Three lighter base layers topped with the Brooks Utopia Softshell II (my favorite running jacket).

Thick gloves or mittens. I actually prefer mittens because you can put your hands in a fist, which keeps them warmer.

A super warm HAT that covers the ears, along with something to cover your nose and mouth. I used a lululemon headband as a buff, which worked really well. I noticed that as soon as I would lower it, my lips would instantly begin to dry and my nose would freeze up. For the first 8 miles I used it to cover my face. Not the most comfortable way to run, but at least it was warm.
Other little tidbits that I learned:
Carry and use Chapstick or Vaseline for your lips. They will thank you. I don't go anywhere without my Burt's Bees.

If you are going to carry a hydration pack, which you always should running during the winter months, make sure it is well insulated. Before leaving the house my husband suggested that I use one of our insulated tubes to keep the water from freezing, but I didn't listen to him. Within a mile the tube was frozen and I had to remove my pack and drink directly from the pouch if I wanted water.

And with that, always listen to someone with more experience than you… lesson learned on that one.  My husband loves hearing "you were right."

GU will not freeze, but it WILL become a gummy-like substance that is very difficult to consume. If you are planning on consuming a GU, I recommend sticking it somewhere warm for a mile or two to soften it. Putting it under my sports bra for a few minutes really helped.

Running on uneven snowpack or ice is not worth it. There were a couple times when I tried running on the sidewalks and felt as though it was a twisted ankle waiting to happen. I did most of my running directly on the side of the road, running toward traffic, so the terrain was flat and predictable. Be mindful of cars and wear clothing that makes you visible.
I can't wait to do more cold weather running this season and feel as though I have a pretty good grasp on what I can manage. Anything below this temperature and these conditions would likely land me on a treadmill, but at least days like this are few and far between.
Only three weeks until the California International Marathon, which means one more build week and then it's taper time! Cheers to a great week.
What is your favorite piece of running gear during the winter months – something you could not live without?
Yaktrax or Screws?  Why?