Typically, major events that trigger massive amounts of emotion in people are one sided. There are good events that cause everyone to simultaneously experience joy, and there are bad events that evoke sadness, frustration and anger. But what happens when one event triggers polarizing emotions that clash amongst two major groups of people? Well, that my friends is what happens every weekend in the National Football League, including this past weekend in the AFC and NFC National Championship games. And it was hard to avoid the opinions, name-calling, bragging, and display of emotion that took over the Internet and social media outlets.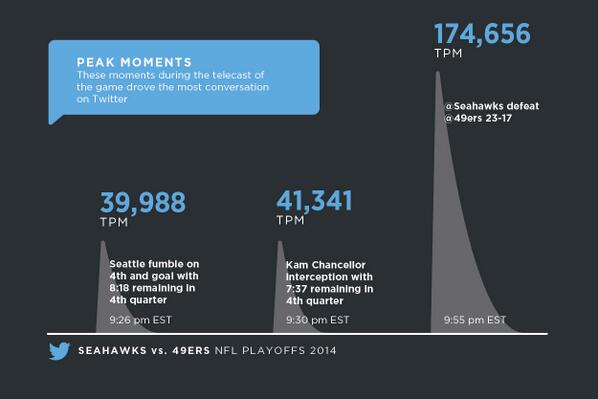 As I was posting my excitement about the Seahawk victory on Facebook, I instantly started noticing the negative comments and anger, and someone even made a comment to me about Richard Sherman as if I was Richard Sherman and it was my fault he was running his mouth after the game. Every new post in the feed was either an extreme amount of joy for the win or an extreme amount of anger and resentment for the loss. I sat back, watching this circus unfold on the television and Internet, and couldn't help but look at it from the perspective of the psychologist in me in an effort to understand WHY.
What makes a fan? A fan can be anyone, cheering for anything, really. When one becomes a fan, he or she connects to a group. Whether it's a football team, particular product or company, athlete, or your own family member, when we are a fan of someone or something, we build an internal relationship with it. Humans have a strong desire to belong and connect with other people, and becoming a fan of something partially fills that need.
Strangely enough, there is a real psychological connection that occurs with fandom. Fans will cry and feel the loss when their team is defeated. Fans will jump for joy, laugh, yell, and scream with elation when their team succeeds. Why? Because if we are psychologically connected to something to begin with, we will, in a sense, feel what others are feeling.
When we are connected to something, like a football team, and we are watching the players perform on the field, their actions can trigger what are called mirror neurons, which can ultimately allow us to feel as though WE are the ones performing those actions. It is one of the reasons we can feel empathetic toward others. If a player gets a touchdown and displays joy, we feel that same joy. If a player fumbles, and feels failure, we feel that failure too. Perhaps not to the same degree, but definitely to some extent depending on how connected we are to the individual or to the team. And those feelings of pride, joy, failure, anger, and success…those are all REAL emotions.
Makes sense right? This is why you hear people say WE won, MY team won, WE did it, and WE are going to the Super Bowl when things are good. And it's precisely why you hear them say THEY lost, THEY will get them next year, THEY played well but just couldn't pull it together, and THEY fought hard, when things are bad. It's amazing really. We tie ourselves more closely to winners, because it really does feel good to win, and we distance ourselves (even if only unconsciously for a moment) from losers, because it hurts.
It's an investment. People take time out of their lives, pay money for gear and tickets, and most importantly invest emotion and energy into being that "fan" each week! The more they do this, the more emotionally connected and influenced they are going to feel. I am not going to invest $500 dollars in tickets to a game unless I fully intend on "acting" my moneys worth in the fan I intend to be. The more we invest, the more we try to connect. It's that simple.
Fans feel as though they can do things to help or control the outcome, whether that's through yelling and screaming, game day traditions, or even superstition. Have you seen the Bud Light commercials with the message "It's only weird if it doesn't work."? Well, fans will do some crazy things that make them believe they are influencing the outcome of the game. Whether it be wearing that lucky shirt, sitting in the same spot when watching the game each week, not opening a bag of Skittles until Marshawn Lynch scores a touchdown (a big one in my household), or playing that lucky song, we believe it works.
It's powerful. It brings people from all different ages, races, religions, sexualities, and backgrounds together in space and mentality, which you may not otherwise see. It breaks down barriers and gives people a chance bond and associate themselves with others who are different from them, but whom share the same passion and excitement for a team. We become instantly connected to others with whom we might not otherwise associate, and we NEED this kind of interaction amongst the diverse country we live in.
It creates an ability to stand out to others and play a meaningful role amongst a group. Think about it. Why do people go all out dressing in costumes, going shirtless during a game when it's -5 degrees, and venture out of their day-to-day comfort zone? It's not because they believe that Halloween is a recurring event from week to week. It's actually a way to connect with others, show your commitment to the team, and gain some admiration and instant credibility from other fans. Think of it as a social hierarchy. If I am the fan that goes all out, then I am the fan who is looked up to by others, earns TV time, and whom other fans may strive to be. I am the celebrity and I am getting a piece of the limelight. And if that gets me TV time that is shared with the actual players, then that makes me feel like I am more a part of the team. Just ask the SeaHulk, or Mr. and Mrs. Seahawk how connected THEY feel to their team.
Being a fan is also protective. Fans not only get excited and celebrate when their team or player does well, they also get protective and defensive when things go wrong. They will go to great lengths to defend their team (their family), rationalize or justify poor play or a loss, and instill hope that things will change and get better. This has a self-serving purpose as well. If someone criticizes or makes negative remarks about my team, I am likely to take them personally and respond/react defensively, as if I were the actual target of these remarks. It will then be my responsibility to defend the team and demonstrate my loyalty. Why did social media blow up after the Richard Sherman interview that gained so many negative remarks? Because, people felt a need to support him and show their allegiance to the Seahawks. What we all need to remember is that our loyalties and allegiances may clash at times, but we are human and need to be respectful of these differences. How boring would the world of sports, entertainment, education, and activity be if we were all the same? Sounds pretty dull, in my opinion.
Being a fan can be rewarding, and it can be frustrating. Often within the span of only a few minutes. But the world needs fans. I run a little faster when my husband cheers me on when I am running a race. A football team feeds off the voices of its fans surrounding them in the stadium. An actor may devote a little more time when moviegoers flock to the theater. A child might choose the challenging road because he or she knows that his or her parents will be there to support and encourage. Embrace the Fan in you. You are wanted (and needed) in this world. You probably want fans in your own life as well. It's a marvelous thing.